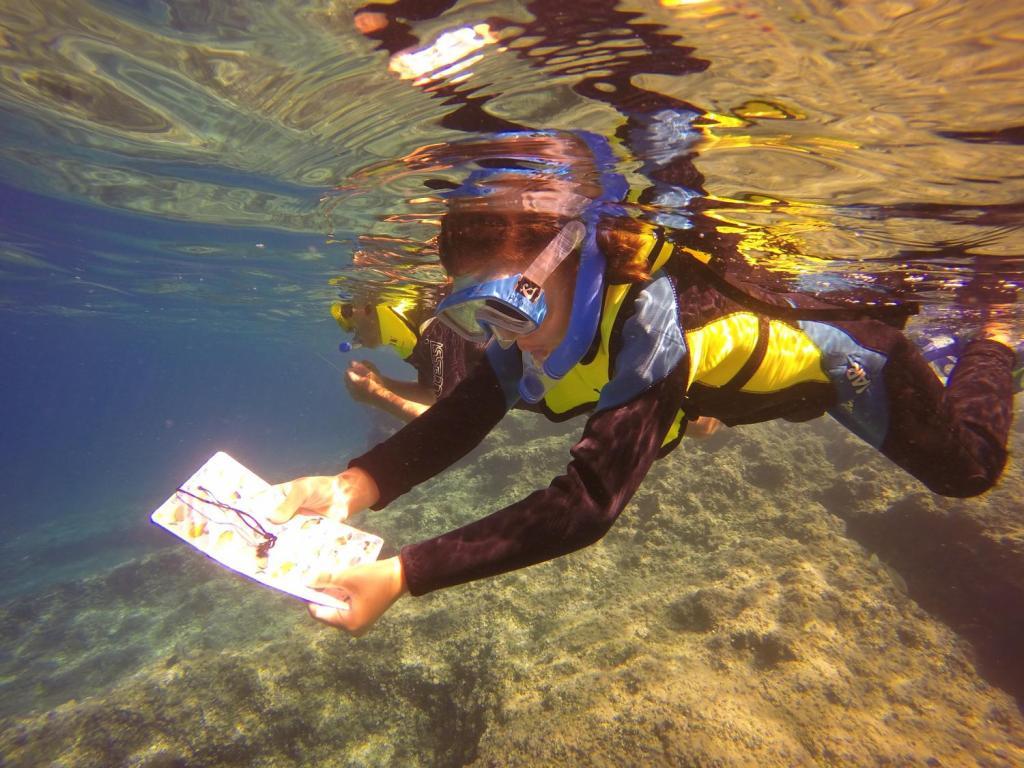 Broaden your perspective ... Family snorkelling
Where do you draw the line when you look at the sea from the beach? Does it end where the children's feet can no longer touch the bottom? Is it a place that intrigues you while inspiring respect?
You see us during your family walk around the La Vila Sailing Club, and why not? It looks a comfortable, cheerful and active place. Curiosity has been rising since you saw that family getting ready with their masks, snorkels, fins and life-jackets. It looks safe for everyone.
Shall I tell you something? Staying afloat with minimal effort on the surface of the sea and opening your eyes to that new world is wonderful. More so if you can share it with someone special.
So, you can enjoy a unique experience. We will go slowly; this can't be sudden. We want to spend time with you. To get to know you, especially your children. And since we also plan to enjoy ourselves, once we set eyes on you, we'll carefully get your snorkelling equipment ready. The little ones love to put their wetsuits on and hear what is going to happen next: are we going on a boat? Will we see dolphins? Shall we go now?!...
The journey is exciting in itself. The wind, the waves and the seascape captivate everyone. Being in contact with Nature really is the life, and seeing the coast from the sea gives us a new perspective. The beaches, the towns, the mountains... And the Island!
Now ... ready,
                           ... steady,
                                                 ... into the water!
Skin wetted by salty water, snorkels in your mouth, your head under the water and, as we open our eyes wide, we breathe. Wow, it wasn't as difficult as all that.
What's that over there, a fish? No, it's hundreds of them. A large bank of saddled seabream that welcomes us under the boat, where the bottom is visible from afar and is very blue. Sense of freedom. But that's not all, there are a lot of rocks nearby. With thousands of little black fish dancing on them. Could they be the damselfish they told us about earlier? Yes, we're surrounded! Time flies while we're having fun watching and discovering the sea. Starfish, octopuses, sponges and lots of colourful fish swimming everywhere. It is great fun guessing what the things we see are. Some are building their nest with algae; others are feeding on plankton in the water. And at the bottom, now closer to us, many are resting among the rocks.
It's difficult to describe the sensations the sea arouses in us. It's exciting to discover the colours, the synchrony and so much beauty.
Your eyes open until they can open no further, we take our head out the water and try to talk with our snorkel in our mouth, amidst laughter, shouts and fun gestures. More, we want more.
And when you get back, enjoying a pleasant feeling of calm all over, you begin to think about when you can put your fins back on. An unforgettable family experience with www.ali-sub.com