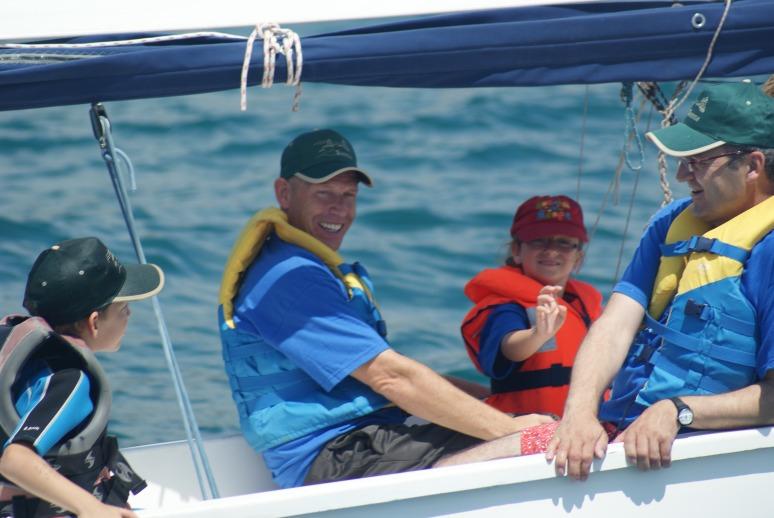 The best idea for escaping from the daily routine at Oropesa del Mar
It sounds exciting to dive deep into the open sea out of season, listen to the silence and feel the freedom that surrounds you. And if you combine all that with some other water activities and a bike ride, well, what more could you ask for?
We decided to innovate with our getaway plan and take a chance with the sea, the great unknown out there, with all the different activities it has to offer.
Before making any plans though, you have to check up on the weather. We wanted to be sure that we could really enjoy the activities and the sea, since stormy waters can work against us; they can be frightening and even dangerous. We checked several meteorological websites and after making sure that Saturday was going to be a beautiful day, we decided to call the Nautical Club of Oropesa del Mar to make a reservation. They gave us the contact details for the activities that they organised as well as others run by companies at their facilities.
The big day arrived! All the excitement and nerves of anticipating a day that was going to very special and very different. We prepared a knapsack, got the bikes and set off. We weren't sure about going by car or by bike, but then we saw that the green route was ideal for getting to the Nautical Club, and that way we could see the sea from a viewpoint that was different from the one we were going to enjoy later on.
What a beautiful way to reach the port! And what a beautiful port it is! Everything looks that bit more special early in the morning. When you enter there are some signposts that direct you to the sailing school, so off we went because that was our first booking. The instructor was very attentive and was well aware that it was our first time at sea, so he was very patient and answered all our questions. After boarding, we set out to sea, what an exciting feeling! We did some dinghy sailing and windsurfing. We loved it all, besides being able to do activities that were personalised just for us, there were just us and the instructor, no groups, no noise, peace and quiet.
Sometimes it's fun to go in a group or join others to get to know people, but sometimes what you really feel like doing is going with your partner and doing more personalised stuff that's organised just for you.
After two hours with Leo and Javier learning to sail, we went back to the club to have a coffee. That did us a lot of good, drinking our coffee while enjoying the sea and the fresh breezes. Boats were already setting out to sea at this time of the morning.
Next stop, CANOEING! We really wanted to try this! We'd reserved a three-hour course where they taught us safety manoeuvres, like getting into and out of the kayak, paddling, rolling, etc. A real discovery, we really enjoyed it. We paddled near the rocks and cliffs between Oropesa and Benicasim, following the coast, it was beautiful.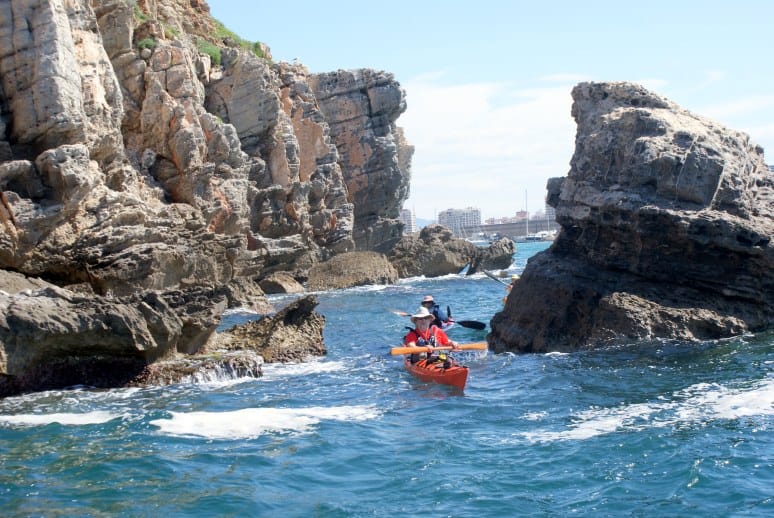 We had a quick shower at the facilities of the Nautical Club, since they were really kind and lent us an access card to the changing rooms.
We had a laid-back lunch, enjoying the views between the sea and the mountains. Lunch was delicious and the service was excellent. And we still had the rest of the day to go.
We took a short walk around the port and headed off for the jet skis that we'd reserved for early afternoon. Great fun! We had a wonderful time (although a bit nervous to start with) pure adrenalin, speed, laughter, freedom… We swam out in the open sea, enjoying the surroundings, looking at the mountains from the sea. It was a real privilege to be there.
After letting off some steam and adrenalin on the jet skis, we rested a bit at a terrace bar and had a drink.
We'd always wanted to do some scuba diving, se we'd reserved a visit to the Barracuda diving centre for a first session. We started by learning the basics in a swimming pool they have there, and then we went out on a boat to do some diving in the sea. We felt like fish in the water, a wonderful feeling of peace, freedom and tranquillity. There are no words to describe the sensations we felt while diving. Incredible.
And then it was evening. The time had come to relax and take a boat trip. We hired a yacht with the captain included to take a short one-hour trip. They really looked after us and offered us drinks. A perfect end to a perfect day, full of emotions and activity.
It's very hard to describe all the sensations I felt in just one day and without leaving the same place. Sailing, windsurfing, kayak, jet skis, diving, boat trips … learning, skills, balance, laughter, discovery, excitement, fear, peace, calm, fun, adrenalin, speed, relaxation, clean air, purity, solitude… Every activity has something special, they're all very different from each other and transmit different feelings. We'll definitely do it again; perhaps a bit more slowly (and by car; the trip back by bike was exhausting).