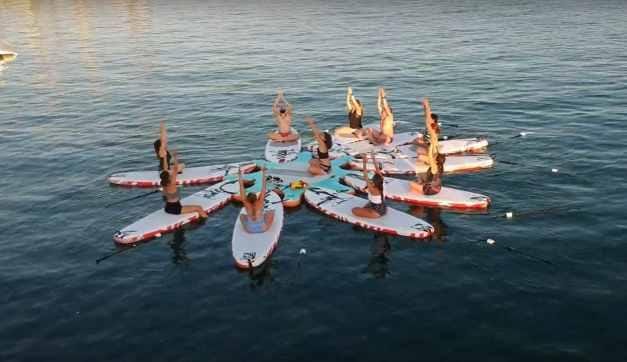 Paddle surf: Yoga to the rhythm of the waves
If you love the sea as much as I do, then more than ever before you may be looking hard for water activities that connect you to nature.
In my case, this summer was an opportunity for me to feel the sea in a very special way, and there are always options in active tourism just waiting to be discovered. And so I'd recommend letting yourself go and doing some yoga on a paddle surf board, meditating as you feel the waves rocking you.
I discovered this experience thanks to Ocean Republik, a marine activities school I discovered as I was taking a walk inside the Marina of Valencia. This place is surrounded by sailing craft, resting opposite a beautiful sandy beach bathed by tranquil waters, that taken together make an impressive backdrop where you can find the connection between mind and body, close to the sea.
Besides the relaxation you get from the yoga postures, the monitors explain that when you do them on a board in the sea, you're also working your balance and core stability, letting the gentle movement of the water and the warm breezes of Valencia guide you during the breathing and stretching exercises. The class ends with a brief meditation session to bring about perfect balance, as you float and let yourself be carried by the waves on this side of the Mediterranean. 
Rafa and his group are very friendly and they immediately transmit trust, and above all, their love for the sea. They make you feel very comfortable and always emphasise the importance of safety. After they give you all the kit, the instructors accompany and guide you throughout the session. It may not seem much, but these small details transmit calm and make you feel relaxed, and enable you to focus your attention on the learning process.
I've always been attracted to this kind of water activity, but I was convinced that they were for people in good shape. Rafa showed me that these active tourism and eco-tourism activities can be done by anyone, throughout the year. The social commitment shown by companies in this tourist sector is pretty evident, as you can see in the range of activities such as adapted paddle surfing, which I thought was a factor that gave it all a lot of added value.
Namaste.